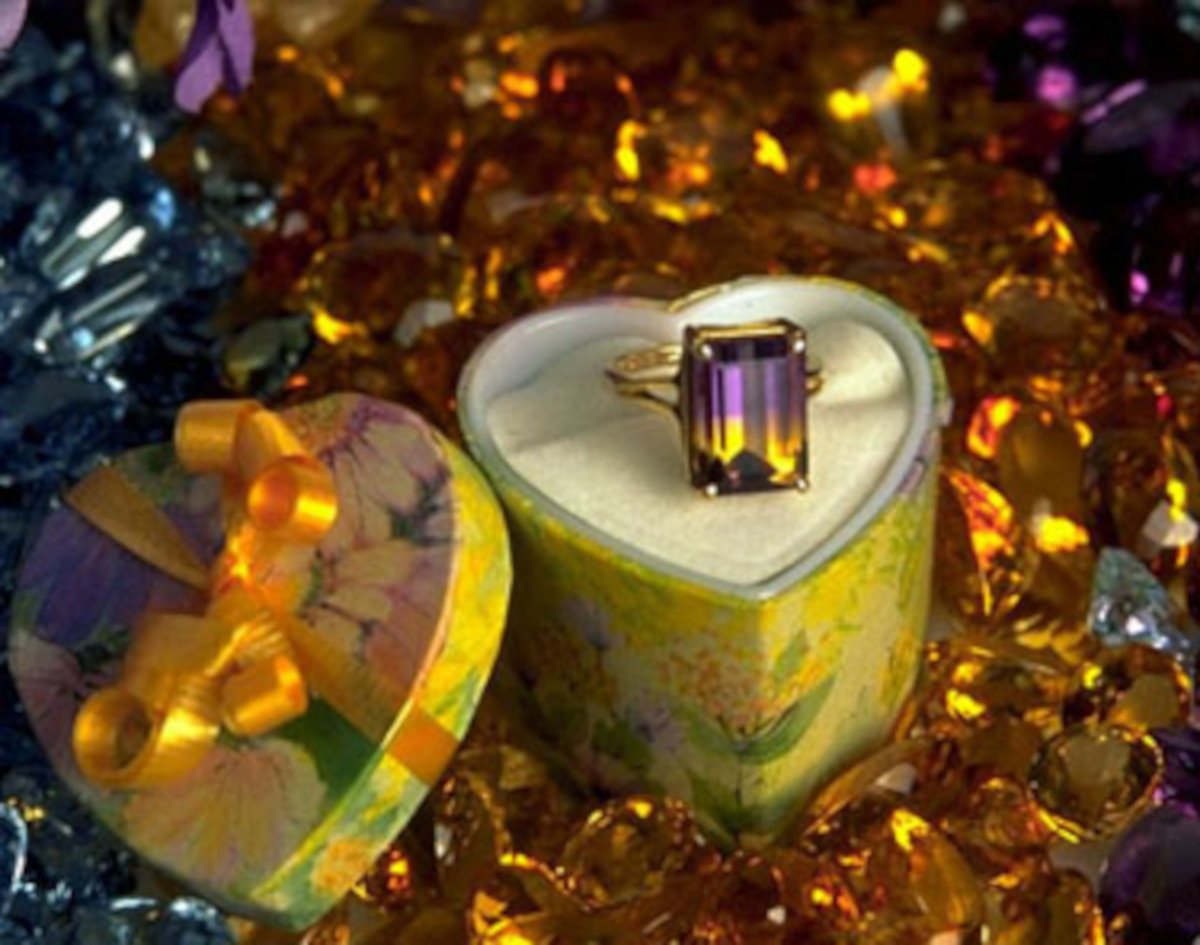 Home of the 1061 ct. sapphire is featured in People Weekly, Disney Adventure, and Rock & Gem Magazines.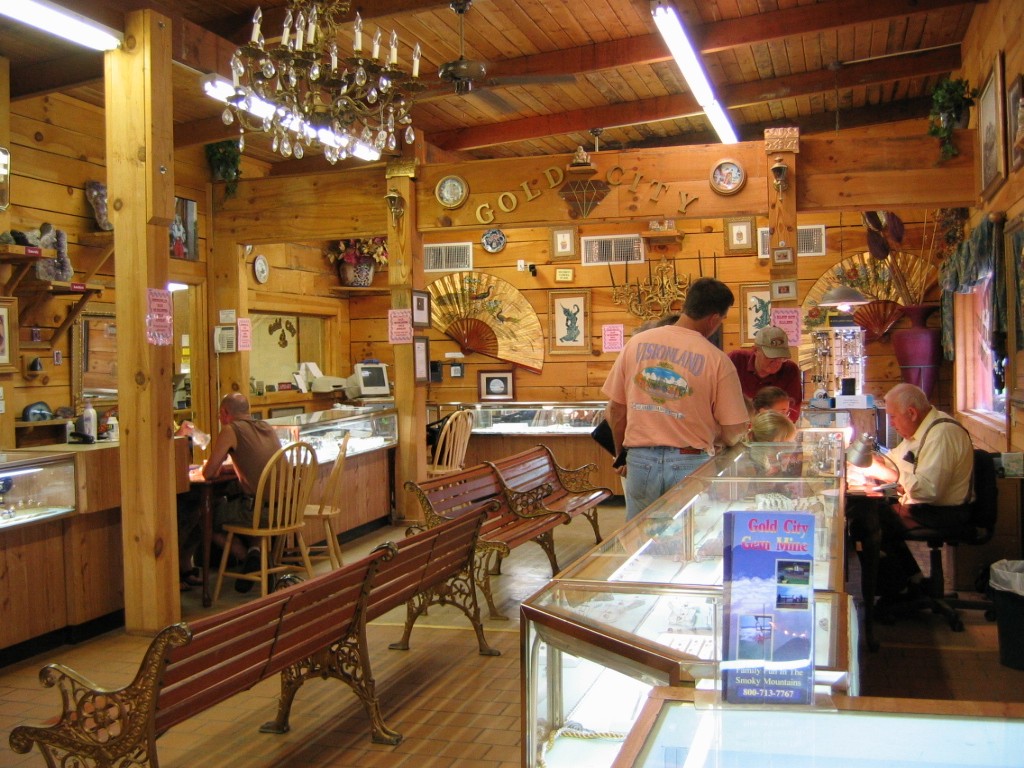 We at www.totalgems.com have 50 years experience in the sale and manufacturing of Gemstone Jewelry sold to the public. With our Manufacturing Facilities, operating in the Smoke Mountains of North Carolina USA and Brazil, we can provide custom quality Jewelry at an extremely reduced price versus your local Jewelry Store, who may deal in Larger Overheads and smaller Quantities.
We do not deal in the Jewelry supplied to large chain stores, which we consider production Jewelry, with little or no personnel expression. We would rather Manufacture Jewelry with Gemstones which express the individuality of the person wearing the Jewelry.
We therefore developed a Line of Jewelry using Color Gemstones of Quality including Amethyst, Ametrine, Silver Topaz, Blue Topaz, Mystic Topaz, Citrine, Garnet, Smoke Quartz, Emeralds, Green Tourmaline, Pink Tourmaline, Sapphires and Rubies to the public, at a price normally Supplied to wholesalers.
Buy from us and you will save by ordering Factory Direct for Custom Gemstone Jewelry. We ship daily and your order will be processed and shipped the same day that it is received. Orders are received and processed on a Secure Line which handles all Credit Cards, Master, Visa, American Express and Discovery.
Jewelry comes to you by Certified Mail, which you sign for, wrapped in a Gift Box. For people who want a gift to be sent directly, all Jewelry will be in gift boxes and can be sent directly to the person or persons worldwide.
If you need assistance, our Facilities are open from 9am to 5:30pm, 7 days a week in season at 1-800-713-7767. A Custom Jewelry Specialist will help you with any questions or orders. If you require any Special Jewelry, we would be glad to quote a price and Manufacture.
Curt Rhoades, President and Founder
GOLD CITY GEM MINE is a retail tourist location open to the public dealing in the sale of precious gems, semi-precious gems, gold and silver gem jewelry, gem mining, gold panning, and the sale of rocks and minerals
We are located between Franklin, NC, and Sylva, NC on Highway 441 in the Western North Carolina Smoky Mountains. We have been operating with the same owners for almost 25 years and Gold City is actually shown on most road maps.
Gold City owners welcome you to 40 acres of Minning on a major Highway (Highway 441) in the Smoky Mountains of western North Carolina.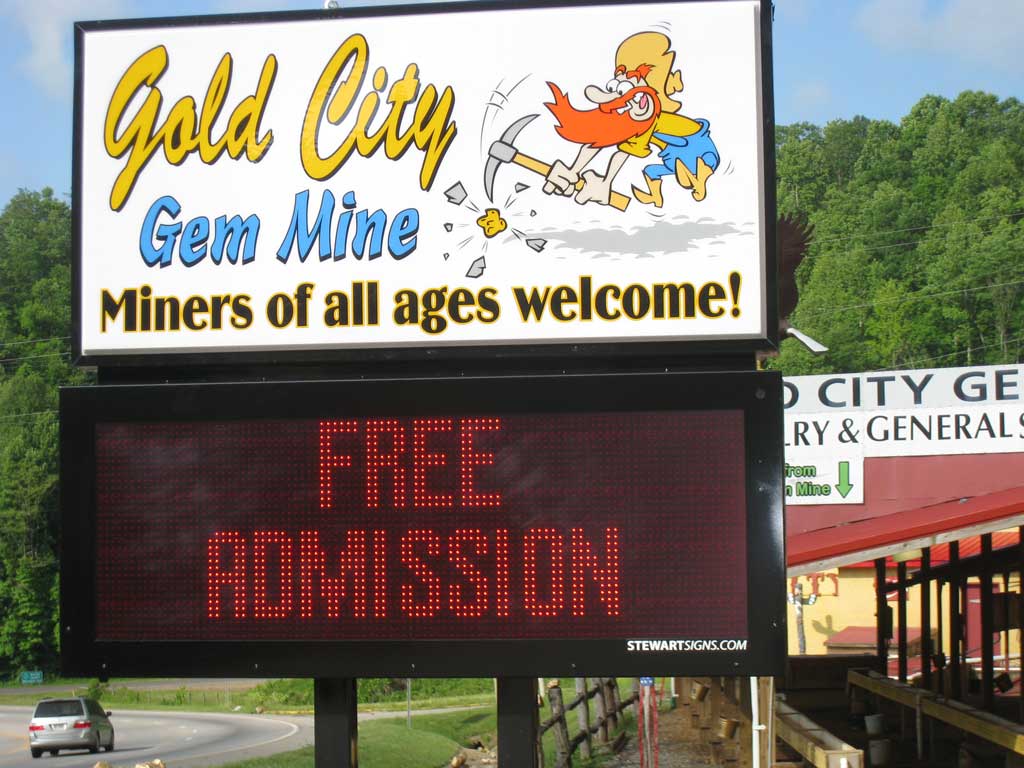 Come to Gold City for a day full of fun and excitement for the whole family. Mine in our new and improved, covered flume rain or shine. Keep what you find! Take all mined stones to our jeweler for free gem identification. Professional cutting is also available in our jewelry store along with a wide variety of gold and silver jewelry.
Amenities
Heated Flume inside on cool days
Free Admission
Group Rates Available
New Outside Flume/Heated inside Winter Flume
Professional Gem Cutting and Mounting
Precious gems: Emerald, Aquamarine, Ruby, Sapphire.
Semi-Precious gems: Amethyst, Topaz, Garnet, Moonstone, Smoky Quartz, Citrine, and Ametrine.
"Same management/owners for 25 years, same good service."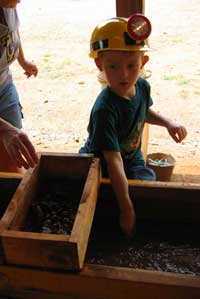 Gem Mining
Come mine one of several types of buckets here at Gold City, Franklin, North Carolina. ALL GEM DIRT IS MINED FROM OUR 40 ACRES PROPERTY BEHIND GOLD CITY, FRANKLIN, NC We have both Native and Enriched Gemstone buckets. After mining, bring your rough stones to our on-site professional jeweler for a free inspection. You can also have your stones cut and mounted into a variety of gold and silver mounts for a beautiful souvenir.
*Our buckets contain rubies, sapphires, citrine, silver topaz, garnet, amethyst, emeralds, iolite, tourmaline, ametrine, and peridot.
Gold City's famous and most popular North Carolina Gem Bucket includes one cut gemstone, ready to be mounted.
Most of our gems can be tumbled with one of GOLD CITY'S TUMBLERS purchased in the Rock Shop.
We also sell our world-famous NORTH CAROLINA BUCKET to go as a bucket or a kit with the screen if you want to take Gold City home with you.
* Not all buckets contain all the gemstones listed.
Gold Panning
Also available here at Gold City is Gold Panning. We offer all the supplies you need to strike it rich! Pan for real gold and keep what you find.
After panning, come in to our general store for extra gold tweezers and vials to put your finds in. We also sell gold bags to go along with all the accessories needed to pan for gold wherever you go.